Lynn Quast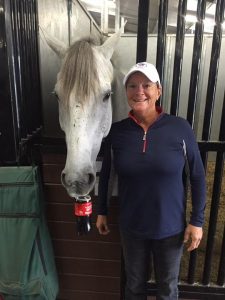 With a BS degree in Equine Studies from Meredith Manor, Lynn Quast has been a professional in the horse industry for 30 years.  She has competed nationally and trained many young riders, some of whom have pursued careers in various equine fields.  She is particularly good with young children but also has a faithful following of adult amateurs.
Lynn grew up riding and competing Western. During her time at Meredith Manor, she developed a passion for Eventing, a discipline which requires a deep foundation in dressage, cross-country and show jumping. This passion has resulted in her 10-year tenure as president of the Southern Eventing and Dressage Association, a position in which she has worked tirelessly to promote the sport in this region. Lynn has trained with preeminent equestrians Loma Fowler and Linda Strine and continues her own education through regular clinics.
NEW VOCATIONS SATELLITE FACILITY
Lynn is dedicated to racehorse adoptions and has joined the expanded efforts by opening a satellite facility at Equi-Best. Founded in 1992, New Vocations is the largest racehorse adoption charity in the country. Its mission to rehabilitate, retrain and rehome retired racehorses has led to the placement of nearly 7,000 individuals, with almost 500 retirees served by the program each year.
New Vocations and Rosie Napravnik Join Forces to Open Satellite Facility in Louisiana